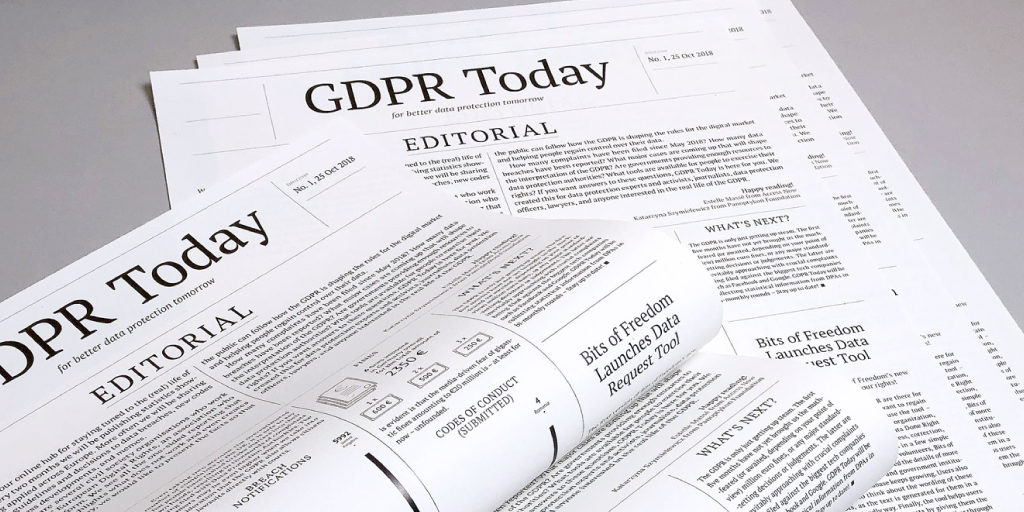 Let us introduce you to GDPR Today – your online hub for staying tuned to the (real) life of EU data protection law. Every two months we will be publishing statistics showing how the GDPR is being applied across Europe. More often we will be sharing relevant news – from legal guidelines and decisions to data breaches, new codes of conduct, important business developments, and memes.
Behind GDPR Today there are several civil society organisations who work together under the umbrella of European Digital Rights, an association who supported the data protection reform. We see all the one-sided reporting that portrays the GDPR as a burden, and highlights what does not work and even creates misunderstanding. With GDPR Today, we would like to present the facts so that the public can follow how the GDPR is shaping the rules for the digital market and helping people regain control over their data.
How many complaints have been filed since May 2018? How many data breaches have been reported? What major cases are coming up that will shape the interpretation of the GDPR? Are governments providing enough resources to data protection authorities? What tools are available for people to exercise their rights? If you want answers to these questions, GDPR Today is here for you. We created this for data protection experts and activists, journalists, data protection officers, lawyers, and anyone interested in the real life of the GDPR.
GDPR in numbers
Statistics collected from eight EU countries show that five months into the GDPR, the new data protection law is alive and kicking. While we were only able to obtain comprehensive numbers from eight countries, we can already see that DPAs have received thousands of complaints and breach notifications, and the first fines have already been imposed.
Numbers show that the GDPR – with only five months since its entry into effect – is not merely a set of general principles and empty promises but a practical and widely used tool for the protection of people's privacy.
The chart below present statistical information on complaints submitted to the Data Protection Authorities from eight European countries: France, Germany (5 out of 16 states), Ireland, Italy, Poland, Romania, Sweden, and the United Kingdom (please note that this data also includes complaints filed after 25 May 2018 under the previous Data Protection Act of 1998). The reference dates for the statistics provided by the DPAs vary from 24 August to 28 September. We expect to increase our scope of reporting going forward.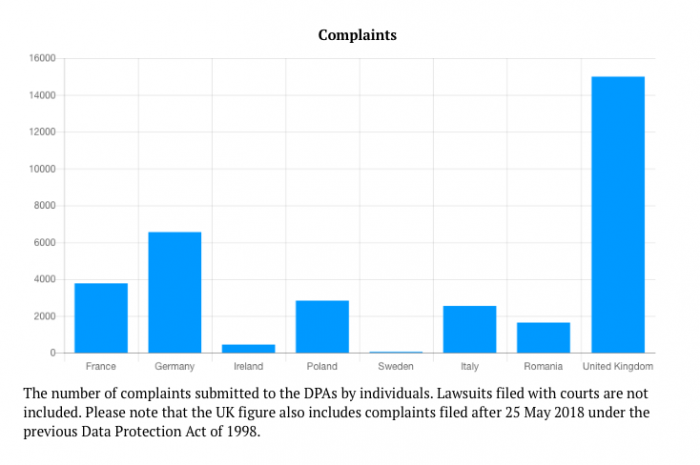 Even taking into account the overestimated number of complaints in the UK, it is safe to say that people have rushed to take matters into their own hands, resulting in thousands of complaints being filed with Data Protection Authorities. The numbers may be even higher when we take into consideration that the GDPR also allows citizens to file lawsuits directly with courts. Check GDPR Today for more statistics.
---